The Summit of the Gods Review: a breathtaking adaptation of a mountaineering manga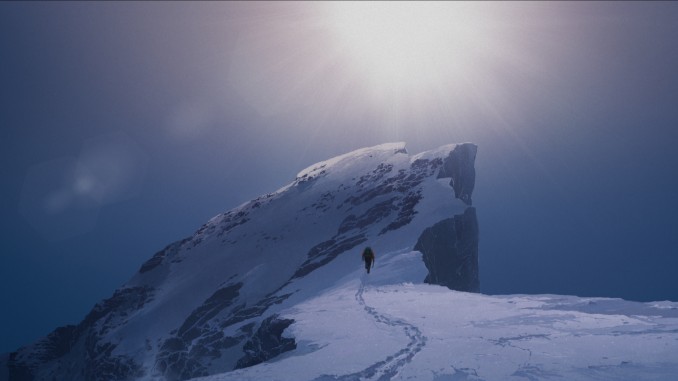 High in the Himalayas, below the summit of Mount Everest, lies the Rainbow Valley. There, colorful, puffy and padded parkas mark the final resting place for countless climbers seeking to climb the ends of the earth. Cemeteries aren't usually colorful places, but the high-visibility gear that the bodies wear still paints the snow-capped canvas of the valley with a bright palette. It's morbid, but appropriate. An idiosyncratic path to follow, restrictive and isolating and too dangerous to mourn, let alone disturb the dead. But it is also a lasting achievement. Rarely do graves, urns and gravestones mean much outside the immediate family, and even rarer these physical monuments in memory represent a life devoted to the pursuit of passion. But on the mountain, some frozen remains, like the still-unidentified man known only as the Green Boots, have become landmarks incorporated into the paths of other people seeking the same goal. The Summit of the Gods is a mountaineering film also dedicated to its cause, finding existential beauty in our mortal struggles, especially if they put everything on the line for a greatness truly understood by the fighters themselves.
Based on the early 2000s manga by Jiro Taniguchi, which added jaw-dropping environmental illustrations and crisp, shadow-rich character designs to Baku Yumemakura's 1998 novel, The Summit of the Gods is a testament to personal motivation through the interwoven stories of two men: mountaineer Joji Habu (Eric Herson-Macarel) and journalist Makoto Fukamachi (Damien Boisseau). French anime from director Patrick Imbert sees two paths cross thanks to a legendary Vestpocket Kodak camera belonging to George Mallory, the English mountaineer who may have reached the top of Everest in the 1920s. Fukamachi sees Habu with the camera, then loses it. Fukamachi wants a scoop; Habu wants to be left alone as he prepares for his own ascent.
In his search for the recluse, Fukamachi compiles Habu's life, building his obsessive arc event by event through unearthed newspaper clippings. With this crisscross structure, The Summit of the Gods is both a great journalism film and a great mountaineering film, each with a series of technical steps that contain an emotional weight that cannot be fully explained to a foreigner. Why are we looking for the top? Why do we go to finding all the details of a story? These solitary goals are as much personal as they are professional. The end result is clear, but the reasoning behind it all quickly becomes murky and existential on examination.
The clarity of the animation supports these big questions with simple answers. The majestic, hazy colors of nature – vivid blues and purples – contrast with everyday life in condos, bars, and city streets that have lost all romance. These are utilitarian in their details, so richly filled with realism thing as to bore you with familiarity. Then, the film takes you on expeditions, through the eyes of those who make a living from them. The climbing sequences feature shots so raw and layered with mud and sunrays that their pictorial abstraction will leave your jaw hanging in the snow. And yet, on a moment-to-moment level, it's a detailed crunch of the peak in stone – clever rope knots and the muscular rubbing of hands and feet – undertaken by figures moving with deliberate intention. , their animations heavy enough to leave footprints and mini rock avalanches. This realism joins the intensity of Taniguchi's drawings for his action sequences, where a great sense of scale is so naturally employed that your hands will sweat as easily as any of the Free solo's bold efforts.
Amine Bouhafa's score punctuates expansive calm orchestral and piano tracks with festive funky rock riffs, encouraging comedic-style tracks. Vivid red elevation headaches flicker and perfectly composed unique images linger as cover pages. A particularly gruesome sequence depicting the frozen, overwhelming death of the mountains crawls and crawls in a bloody red tinged with dark stormy waves. Rarely does realism break for these pieces of psychological manifestation, but their limited use makes them even better.
The Summit of the Gods is a subtle film, told in shades of white and degrees of silence, but its passion burns under the icy frost. The unknown ending of Mallory's journey and the subsequent uncertain quests of his modern-day followers simmer throughout the film. It is a war between the futile and Sisyphean nature of these climbs – where the best of the best may succumb, their achievements lost in time, and those who follow them do so faster, under more dangerous conditions and with less effort. help – and their subjective value. The Summit of the Gods'intricate storytelling and charming, compelling views do its philosophical trick well: whether you risk it all to reach a top, to get to the bottom of a mystery, or to create a meticulous piece of animation, you're lucky to have something to do with it. thing you like. It can be both all you need to keep going and the one thing that will open your eyes to what the world has to offer. It can also help you make one of the best animated movies of the year.
Director: Patrick Imbert
Writers: Magali Pouzol, Patrick Imbert, Jean-Charles Ostorero
Stars: Lazare Herson-Macarel, Eric Herson-Macarel, Damien Boisseau, Elisabeth Ventura, Kylian Rehlinger, François Dunoyer
Release date: November 24, 2021; November 30, 2021 (Netflix)
---
Jacob Oller is Film Editor at Paste Magazine. You can follow him on Twitter at @jacoboller.
For all the latest movie news, reviews, lists, and features, follow @PasteMovies.