Off-piste ski festival from February 24 to 27 | Local News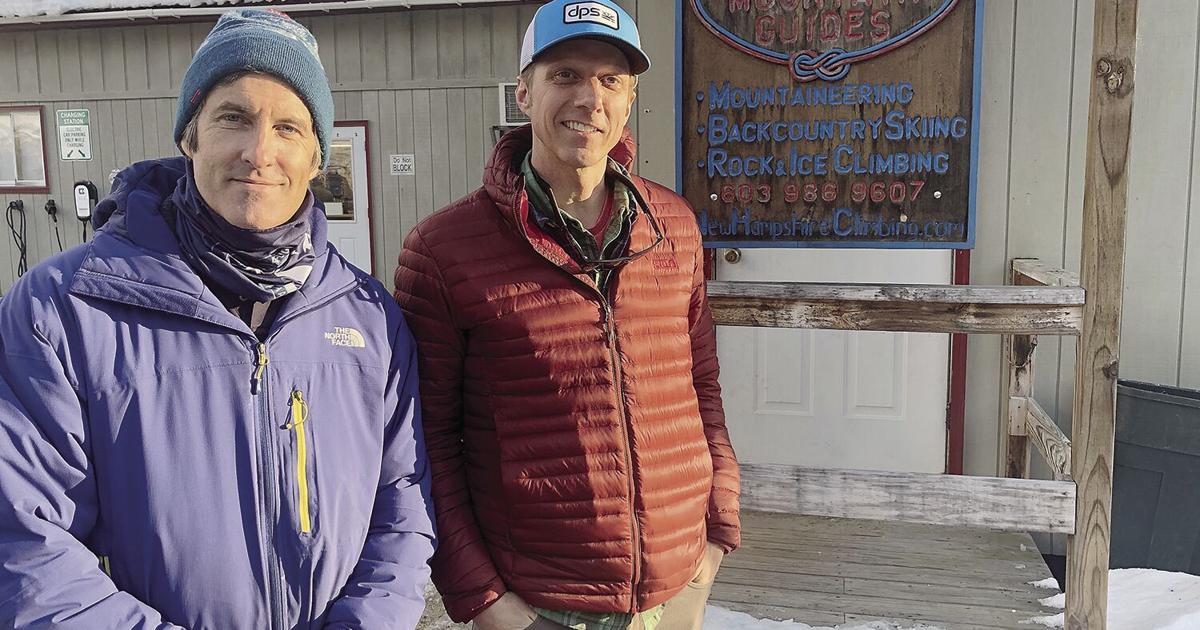 BARTLETT – Free-heel off-piste skiing and uphill mountain skiing are the fastest-growing part of the ski market, with enthusiasts exploring the backcountry in their lightweight alpine touring gear ("AT ") with skins, then sailing on virgin ground.
From Feb. 24-27, the White Mountains will celebrate the sport's growth with the Mount Washington Backcountry Ski Festival, with perhaps as many as 1,000 attendees expected.
Presented by The North Face and departing daily for routes through the White Mountains after morning meetups at Ledge Brewing Co. in Intervale (aka "Ledge Camp" for the event), in addition to daytime ski events, the festival will feature no-ski night events at venues such as the Theater in the Wood on February 24 and 26 as well as the regular Ski the Whites' Ski Under the Lights weekly series on Friday night uphill February 25 at Black Mountain in Jackson (see schedule below) .
The four-day celebration of the many backcountry routes in the Whites is hailed by event founder/ski guide Mark Synnott of Synnott Mountain Guides of Intervale and festival director Tyler Ray of Kearsarge as "the first festival of the northeastern hinterland".
"We're hoping for good snow, of course, but I want to stress whether the snow is good or not, the event will absolutely take place, because we have so much to do, on and off the snow," said Synnott. in an interview this week with my buddy Ray at Synnott Mountain Guides, located behind Ragged Mountain Equipment at Intervale.
Founded in 2017, Synnott of Jackson and Ray of Kearsarge said the festival has expanded this year to include workshops, après-ski meetups, visits from pro athletes and more.
And if the conditions are less than favorable, it will not be the first time.
"My wife, Hampton, and I started this in 2017, and a few of those years the snow was absolutely zero – but we still had a good festival. We did it," said Synnott, not only a member of the North Face climbing team and a world-class mountaineer and climbing guide, but also author of the New York Times bestseller "The Impossible Climb. and "The Third Pole: Mystery, Obsession." and death on Mount Everest.
"The type of people who are drawn to a backcountry festival like this in New England know what to expect, and they don't blame you for the conditions or the weather – they celebrate the good times of everyone coming together to enjoy the sport," he said.
Ray – director of Conway's Backyard Concept outdoor defense law firm and known for his event promotion skills – is the visionary behind founding the Granite Backcountry Alliance, a nonprofit group that has worked at years with landowners and government officials to create the backcountry while promoting "The Ski Kind" mantra of responsible use.
Ray is also the founder and director of the Granite Outdoor Alliance, an outdoor industry trade organization.
But, as Ray notes, the Backcountry Ski Festival isn't a GBA or GOA event — it's a separate entity that's a partnership with Synnott.
The guiding principles of the event, according to Ray, are "to educate and cultivate a strong, lively and welcoming backcountry community that loves to have fun, ski hard and dream big. The festival focuses on social activities, competitions and clinics to ensure the community and the ski industry thrive.
The aim is to create opportunities for skiers, boarders and outdoor enthusiasts to participate in any festival outdoor activity, regardless of age, ability, gender or otherwise, sharing a common bond.
He and Synnott note that they also celebrate and explore how outdoor activities improve the economy – allowing people to live where they love to play – which is a fundamental pillar of Ray's work at Granite Outdoor Alliance.
Synnott, for example, will lead a workshop on the profession of mountain guide.
A new addition that's also labor-related is a backcountry movie contest (dubbed the "Diamond 48") that will launch at Ledge Brewing at Intervale at 5 p.m. on February 24 and end February 26 at 5 p.m.
Thanks to the excellent video capabilities of smartphones, the competition will ask competitors to create their own short ski films, using their phones to record the footage over this 48 hour period, with storytelling being the primary focus. One of its goals, Ray said, is to provide an audience for aspiring independent videographers who may be stuck in a day job or out of work and ready to turn to the outdoor industry to sync passion and profession. . "This is a strong trend happening elsewhere and the demand for such services is evident in a recent statewide Outdoor Workforce Assessment Survey I conducted. at Granite Outdoor," Ray said.
"It's called 'Diamond 48' because contestants will have 48 hours to create a movie," Ray said. "And we all know that diamonds are made under pressure, as the saying goes, so exercise is about producing a quality story in a pressure environment. Stress management skills improve through multidimensional experiences and are no doubt required in off-piste skiing so there is a great complementarity with this 48 hour contest and skiing, it will be exciting to see which diamond shines the brightest," said Ray.
The festival is putting up $1,000 to be awarded to the winner, who will be chosen by the public on Saturday evening, February 26, at the "High George Beer and Gear" event to be held at the Theater in the Wood at Intervale, 6 a.m. -9 p.m.
This event will be hosted by 'NH Life' host and endurance athlete, Kate Sullivan, who will be participating in off-piste skiing for the first time at the festival and will share her experiences at the gathering.
"More than anything," said Synnott, "this event is all about having fun outdoors with other like-minded people and introducing those who might be new to the backcountry to the unique terrain we have here among the whites. I'm looking forward to going there myself and leading some of the classes.
The Mount Washington Backcountry Ski Festival kicks off at "Ledge Camp" (Ledge Brewing Company at Intervale) on Thursday, Feb. 24, with coffee from North Conway's Frontside Grind at 8 a.m. (schedule is subject to to change, taking into account the weather and snow). conditions.) Demos and guided tours will meet at this location from 8am to 9am each day of the festival.
Everyone will then go skiing, supervised by 30 local guides who will participate.
"Some of the guides are part of Synnott Mountain Guides; others are local enthusiasts. We will head through the White Mountains, from Mount Washington to the areas we have developed over the past few years," said coordinator Ray.
Many of these areas favored by the Granite Backcountry Alliance are listed in the organization's book "Graniteland," for sale at Ragged Mountain Equipment and other locations, and on the granitebackcountryalliance.org website. Areas listed include Baldface Glade in Chatham and Maple Villa Glade in Intervale, both located in the White Mountain National Forest; others include Hypnosis Glade in Madison and Ski Tow Glade in Lancaster, to name a few.
On Thursday, après-ski music will be featured at Ledge Camp, hosted by Granite Backcountry Alliance from 3-5:30 p.m. and featuring a Red Bull Patio and pop-up shops.
The action then moves to the Believe in Books Literacy Foundation Theater in the Woods at Intervale for the "High George Festival Opener" (named after Mount Washington) from 6-9 p.m. with $10 advance admission or $12 at the door – or you can purchase a pass to all three nightly events online for $30. Ray says that at Thursday night's event there will be a presentation by Jackson's festival co-founder Mark Synnott and DPS Skis world record holder Aaron Rice.
Rice, from Utah, was featured in the Powder Award-winning documentary, '2.5 Million,' which followed his year-long journey to break the ski touring world record for vertical meters covered (which is means he conquered 762,000 vertical meters, the equivalent of climbing Everest from base camp to summit 216 times).
Another guest at the four-day event will be award-winning ski author and off-piste skiing pioneer David Goodman of Vermont, who will be at Saturday night's event, as well as a special guest who will be named by The North Face.
"We're going to mingle inside and out and there will be music, heaters, beers, good vibes and smiles everywhere," Ray said.
Rekiis Brewing Co. from Bethlehem will be on hand with its beer and food truck. They produced a New England IPA for the festival, called "High George" (it features an alcohol content by volume of 6.288%, reflecting the elevation of the summit of Mount Washington).
On February 25, a DPS Riders Camp will be held at Wildcat Mountain and American Institute for Avalanche Research and Education (AIRE) classes will begin at various locations.
That afternoon, at an après-ski gathering sponsored by Friends of Tuckerman Ravine, Crescent Kitchen Food Truck will be at the Ledge Brewing Camp from 3-5:30 p.m., along with the Red Bull Patio and pop-up shops. An "Outdoor Office" panel moderated by Synnott will take place at 4 p.m.
On Friday night, the action moves to Black Mountain in Jackson for the Friday Night Under the Lights series, where a bonfire will be lit from 6-9 p.m. to bring warmth and good cheer.
Vendors and demos will be available. A Red Bull deejay will be on hand to play music, and Kringles Pizza and a cash bar will be on hand. The LOSTBO cabin will also be open. Demos will be available.
On Saturdays, yoga and skiing offered by Mountain Kula Yoga; The Crescent Kitchen food truck will be at Ledge from 3-5:30 p.m.; and a High George and Gear Meet & Greet will take place at the Theater in the Woods from 6-9 p.m. Admission is $15 in advance online or $20 at the door.
On Sunday February 27, the last day of the festival, the same program will be followed from 8 am to 9 am with coffee and demos at Ledge Camp. Then everyone will head out for adventure on selected backcountry courses. It's also the day of the MWV Ski Touring and Snowshoeing Association's 32nd Annual Chocolate Festival at participating ski touring network companies, with the Ledge Brewing Company taking part from 3-5:30 p.m.
Rental equipment is available from local vendors.
Demonstration equipment is available from skis, boots, backpacks, buoys to splitboards. Participants can demonstrate the equipment and not attend a class. Each demo price is set by the manufacturer. Demo gear includes gear from The North Face, Blizzard, DPS, Weston Backcountry, Winterstick, Hyperlite Mountain Gear, Mammut, Jones, Blizzard Skis and Tecnica Boots.
All guided tours have different prices (see "store" online). An online auction is underway.