New program trains hiking club members to help SAR missions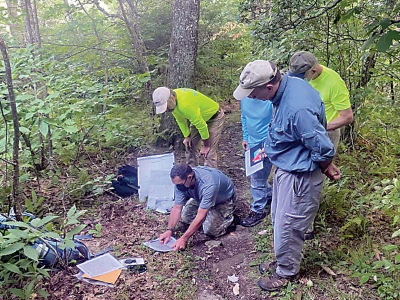 When Chad Seger was reported missing on Friday, October 16, 2020, Haywood County Rescue Team's Wilderness Search and Rescue team deployed immediately to search for the elderly Asheville man. 27 years old, in the Shining Rock wilderness. But even with rescue teams from across the region joining the effort, day after day, no sign of Seger was detected.
"All the regional teams were pretty stretched as it was during the week and we all have to work outside of search and rescue," said SAR team member Nancy East. "It's just volunteering."
It wasn't until Tuesday, October 20, that search teams located Seger's body near the Art Loeb Trail – eight days after Seger's last conversation with his family and four days after he disappeared. SAR Director Mike Street saw how the search had strained the area's volunteer resources and asked Steve Kuni, who is a member of both the SAR team and the Carolina Mountain Club, to see if the hiking club might be interested in forging a partnership.
"His idea was to use people with experience in the woods in the area who are not part of the team and train them to a level where we would not expect them to perform dangerous missions, missions nights, search and rescue involving ropes and so on – but if they can help us do the simple search of 'look at this lead and see if you can find this person', that would help us a lot," said Kuni.
CMC, which at 90 is the oldest hiking and trail maintenance club in western North Carolina, seemed like the perfect place to seek out those experienced local loggers Street was hoping to find. Kuni reached out to CMC member Bill Sanderson and received an enthusiastic response – and the result is an all-new partnership between the SAR team and CMC, training CMC members to assist the SAR team on longer missions. like Seger's research.
A retired Army officer, Kuni moved to Haywood County with his wife about five years ago, and his involvement with both SAR and CMC began soon after. He signed up for the SAR team but needed to get in shape to be most effective on a mission, so he started using the local trails for exercise. On one of those training rides, he bumped into a CMC trail manager and started asking questions. He wanted to know how he could give back to the trails that had proven so important to his fitness journey. Eventually he found himself maintaining the Buckeye Gap Trail in the Middle Prong Wilderness.
As a bridge between the two organizations, Kuni was instrumental in the development of what is still a new and semi-experimental program. Currently open only to CMC members, the program provides participants with the basic training needed to ensure they understand how to work under SAR direction and will be an asset in the backcountry, not a liability.
"If you're not prepared, it can go wrong very quickly, and we end up having to rescue rescuers," Kuni said.
A member of the Carolina Mountain Club demonstrates his fire building skills during the training program. Nancy East photo
CMC members tend to already be wood connoisseurs, and the training process provides additional layers of knowledge. It includes an introductory briefing covering rules and regulations, communication procedures, responsibilities and authorities, as well as professional training covering improvised shelter and fire building, first aid and water navigation. help from the US National Grid navigation system that search and rescue teams rely on. . It is different from the latitude and longitude system and unfamiliar to most people outside the SAR world.
Prospective trainees must also pass a pack test which requires them to travel 3 miles in 45 minutes while carrying 20 pounds.
"It's a real demonstrable ability that we know they can follow a lead and not be a liability," Kuni said.
The first aid section of the training ensures team members can provide first aid to themselves, Kuni said. CMC members are not supposed to administer first aid to subjects, but rather put them in touch with a first responder as quickly as possible – with the caveat that they are authorized to react as a "reasonable person" in the event emergency.
"If the situation was such that they had no communication, conditions deteriorated, I would expect them to use their common sense and say, 'Yeah, we need to fix this guy and get him out of there. 'here,'" Kuni said. But in general, CMC partners should leave medical treatment to medical professionals.
So far, 16 CMC members are fully trained to assist the Haywood SAR team, and four more have volunteered to start the process. But so far, no one has deployed.
"Most of our missions are completed in less than 12 hours," Kuni said. "We might need these guys once or twice a year, but they all know that from the start. If we need it, then we really, really need it.
CMC members undergo basic whitewater awareness training, which teaches them how to assist whitewater technicians and how to react if they find themselves in a whitewater situation. Photo offered
Currently, the program is open only to CMC members, most of whom live in Buncombe County but know the Haywood trails intimately. It's hard to say what its future might hold, however – whether training opportunities might open up beyond CMC membership, or whether the program will serve as a stepping stone to full Haywood SAR membership. . It's a young program, and its leaders are still working out the details.
"We don't build an airplane in flight, but we build it from the ground up," Kuni said.
The Haywood SAR team prefers its members to reside in Haywood County, so CMC's Buncombe-centric membership is not the ideal pool for potential new recruits. But the program has scored at least one so far – Sanderson is now a full member of the wilderness search and rescue team.
"He came to our meeting to see what was going on," Kuni said. "He looked at the boss and said, 'How can I join? ""
do your part
Haywood County has one of the most organized and well trained volunteer search and rescue teams. Here's how you can help this crew continue their rescue mission.