Late Fall Fun in Vermont, From Rock Climbing to Destination Dining | Staytripper | Seven days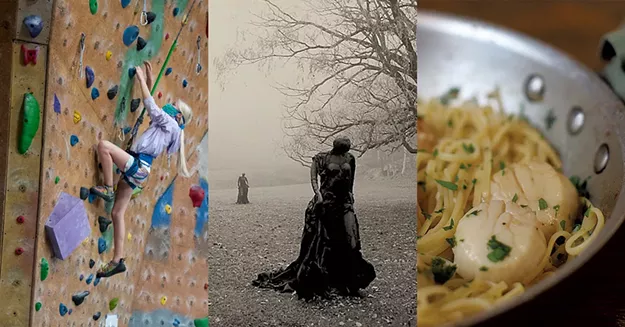 Petra Cliffs Climbing Center and Mountaineering School
105 Briggs Street, Burlington, 657-3872
Since COVID-19 turned the world upside down, many people have felt stuck between a rock and a hard place, navigating unexpected and disruptive changes in daily life. At Burlington's Petra Cliffs, however, getting stuck between a rock and a hard place is a whole different matter – and with unexpected appeal.
The indoor climbing center and mountaineering school focus on mountain-related recreation and education. The challenge of climbing a rock face can be a "mental release or a break from the stresses of everyday life," says programs coordinator and general manager Tim Farr. "It makes you smile and again provides a sense of community that a lot of people may have missed."
Indoors, Petra Cliffs offers rock climbing and bouldering for all ages and abilities, as well as a tree climbing course. These are, of course, hands-on activities – a particular challenge in the event of a pandemic. In order to provide a safer space, Petra Cliffs "dramatically increased cleaning procedures," Farr says, including installing a new industrial air purifier and hand sanitizing stations.
The center requires that masks be worn at all times and that hands be cleaned upon arrival. Its staff also enforce interstate Vermont travel requirements, ask COVID-19 testing questions, require advance reservations, and have a capacity limited to 35 people at a time.
Outdoors, experienced guides give ice and rock climbing lessons. "We've seen a slight increase in outdoor programming, especially with the fall colors," says Farr, who notes that some winter programs are already full.
"We also expect more people to want to come back inside to climb as the weather gets colder and the days get shorter," he continues. To meet this demand, Petra Cliffs will continue to adapt, in accordance with state guidelines as winter sets in.
Rock On.
Also try …
Fleming Art Museum
61 Colchester Ave, University of Vermont, Burlington, 656-0750
"Reckonings," at the Fleming Museum of Art at the University of Vermont, is perhaps the most eclectic exhibit you've ever seen. A medical kit from the early 1900s, a photograph by Carrie Mae Weems, an abstract work by a Cuban painter in watercolor and ink from 1952: what the small room full of works from the collection has in common is that each reflects a staff member's struggle with the present.
The Black Lives Matter movement and the coronavirus are, naturally, high in the minds of staff. Guest Services Coordinator Cynthia Cagle chose Louis Lozowick's 1925 Machine Age Minneapolis lithograph, she writes in an accompanying label, because it is reminiscent of the police murder of George Floyd in this city earlier this year. A 1917 recruiting poster by Milton Herbert Bancroft, titled "Wanted: 25,000 Nursing Students," reminds curator Andrea Rosen of the UVM's rush to complete its Spring 2020 nursing class earlier to help caring for patients with COVID-19.
"Reckonings" is at least as interesting for the reflections of its participants as for the works themselves. (Indeed, when else can you read the thoughts of, say, Collections and Exhibitions Director Margaret Tamulonis?) Jeff Falsgraf, designer and exhibitor, reflects on the turbulent year of 1948, when Herbert Meyer painted his seemingly unconscious bucolic oil, "Farm in Summer."
Alice Boone, Curator of Education and Public Programs, is the most poetic of the bunch. Choosing a silver print from Judith Brown's "Lamentations Group" – an outdoor installation of grieving female figures, walking with heads bowed – she writes: "We will become these figures this fall, as we choreograph ourselves to continue … Our lamentations will multiply. "
Fortunately, with the relatively successful removal of the virus in Vermont, the opportunities to see art can also multiply. "Reckonings" is on view until November 21.
Also try …
"About what's left," watercolors by Sharon Kenney Biddle, at the Northeast Kingdom Artisans Guild Backroom Gallery in St. Johnsbury, until November 21 748-0158.
"Missing key" works by Beth Pearson, Betsey Garand, Annelein Beukenkamp and Leslie Fry, at the Furchgott Sourdiffe Gallery in Shelburne, until November 28, 985-3848.
Daily intake
61 Central Street, Woodstock, 332-4005
Central Street in Woodstock is home to a bookstore, drugstore, craft gallery, tin shop, and vintage clothing store. In the middle of this collection of village businesses is a fish out of the water: the Daily Catch, a charming little seafood restaurant with a Sicilian vibe.
Housed in a white clapboard Victorian building, the Daily Catch opened in fall 2018 – and the season features prime time dining. A bowl of clam chowder and a serving of crab and lobster cakes provide warm comfort and tasty food.
Paul Freddura founded the first Daily Catch in the early 1970s in Boston's North End. He and his wife, Maria, have since launched outposts in Brookline, Woodstock and on the Boston waterfront.
The Fredduras have a home on Silver Lake in Barnard, and Maria opened the Woodstock branch for selfish purposes: "I used to bring my own fish here to eat," she says. Now, "We buy [fish] from the boat, cut it up and ship it. "
The 35-seat space, limited to 18 customers due to the pandemic, attracts diners with its baked scallops, squid "meatballs" and linguine with white sauce and clams. The latter dish is served in a pan, with clams in their shells arranged around the perimeter of the pan. Take-out meals are also available.
Along with seafood, pasta populates the menu to create a package of offerings that is a tribute to a traditional Christmas Eve meal. "The Daily Catch is actually the feast of the seven courses, 363 days a year," says Maria.
Her husband, whom she describes as a "city boy who is not ready to give up concrete for Class IV roads", nonetheless influenced the small town restaurant.
"My husband's favorite is Frank Sinatra," she says. "Our menu is therefore available 'Night and Day'."
In the zone…
Billings Farm and Museum, 69 Old River Road, Woodstock, 457-2355
Harpon Brewery, 336 Ruth Carney Dr., Windsor, 674-5491
Marsh-Billings-Rockefeller National Historic Park, 54 Elm Street, Woodstock, 457-3368
Suicide 6 ski area, 247 Stage Road, South Pomfret, 457-6661