Himalayan Mountaineering Institute – Darjeeling, India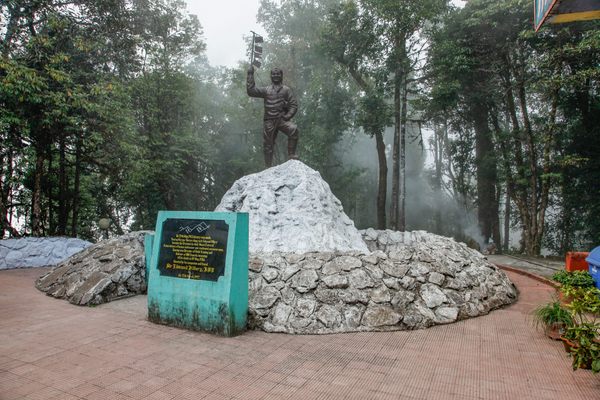 Bette Midler once said, "With the right shoes, you can rule the world. On May 29, 1953, Tenzing Norgay literally proved that saying by becoming the first person, along with mountaineer Sir Edmund Hillary, to climb Mount Everest. Norgay wore handcrafted reindeer hide and fur boots, custom made by Swiss shoe company Bally. Today, the pair of double-stitched boots that stood on top of the world are on display at the museum of the Himalayan Mountaineering Institute in Darjeeling.
The museum has three sections: History of Mountaineering, Mount Everest Expedition and Panorama of Himalayan Life. A relief of the entire Himalayan range displays its prominent peaks, glaciers and river systems. The section also contains artifacts related to the evolution of climbing techniques and equipment used in climbing. Flags, badges of honor, medals and monograms of various alpine clubs around the world are also on display in the history of mountaineering section.
The timeline of humanity's fascination with challenging the might of Mount Everest has been documented and displayed in the Mount Everest section in great detail. Everest stands at an altitude of 8,849 meters above sea level. In 1852, Indian mathematician Shri Radha Nath Sikder of Survey of India calculated the height of Everest Peak XV and arrived at the conclusion that it was the highest mountain on Earth. This peak was named in honor of George Everest, then Surveyor General of India. The discovery is documented in the museum.
In the Himalayan life section, there are a large number of artifacts and models related to the art, culture, socio-economic life, flora and fauna of the region. A Carl Zeiss VEB telescope donated by Adolf Hitler to General Shamsher Jung Bahadur Rana, Commander-in-Chief of the Nepalese Army in 1961 is also on display.
In 2013, the iconic Swiss shoe brand Bally presented its Everest collection. They called the summit-inspired line of boots Bally Himalaya Boot. The brand wanted to commemorate the 60th anniversary of the ascent of Everest.
HMI also offers adventure, basic and advanced mountaineering courses. The institute, which is run by the Indian government, caters to adventure enthusiasts throughout the year, as it also hosts several mountain biking and mountaineering expeditions.