Hike on the GR 533 through the Vosges
The GR 533 is one of the four paths crossing the Vosges, in the North-East of France
It is 240 km long and is the westernmost trail of the four.
He goes through Lorraine, which has a strong history, going back and forth between being German or French.
I chose this trail completely at random because I have never been in the Vosges.
There is a saying about the Vosges: there are only two seasons here, winter and August 15th.
Although I suspect that this year the heat wave could change that.
Day 1
After finishing my hike in the Vanoise National Park, I returned home to Ardèche, then to a wedding in Spain and back home.
It was cool to stop walking a little, even if the heat in Ardèche is crazy and makes you want to do nothing all day.
As I put my backpack on, ready to go, I realize that I totally forgot to fix my backpack.
The clips on the top pocket are coming off and I had to sew them yesterday but the heat, beer and fatigue made me forget.
No time to do it now, so I transfer all my gear to another backpack.
It's the same backpack, but a 60 liter instead of a 45 liter.
It will be fine for a few weeks.
After a long journey I arrive in Sarrebourg and start walking around 4 p.m.
It's an easy walk through a canal for the most part.
I see quite a few storks.
I had never seen one before, it's pretty cool.
Day 2
I realized last night that the puncture I thought I fixed on my Thermarest Uberlite wasn't, or wasn't the only one.
The deflation is slow enough that I only have to blow it once in the night, but it's still really annoying.
I really like this mattress, but it's really hard to find a puncture on it.
I usually put it in a tub, which I can't do on trail, so I'll probably buy a foam one somewhere.
After spotting a few more storks and unsuccessfully trying to film/photograph them, I arrive in the forest which I think will make the most of the trail.
It's really nice and there are a lot of really cool rock formations to keep things interesting.
Lots of bugs throughout the day and my head net is definitely a lifesaver.
This is definitely the one piece of gear I would never hike without again.
It takes me a while to find water, so I only camp after 9 p.m.
Day 3
I probably didn't have enough coffee this morning because I kind of walk in a circle and end up where I was half an hour ago.
Although to be fair, after paying more attention the bifurcation was really hard to see.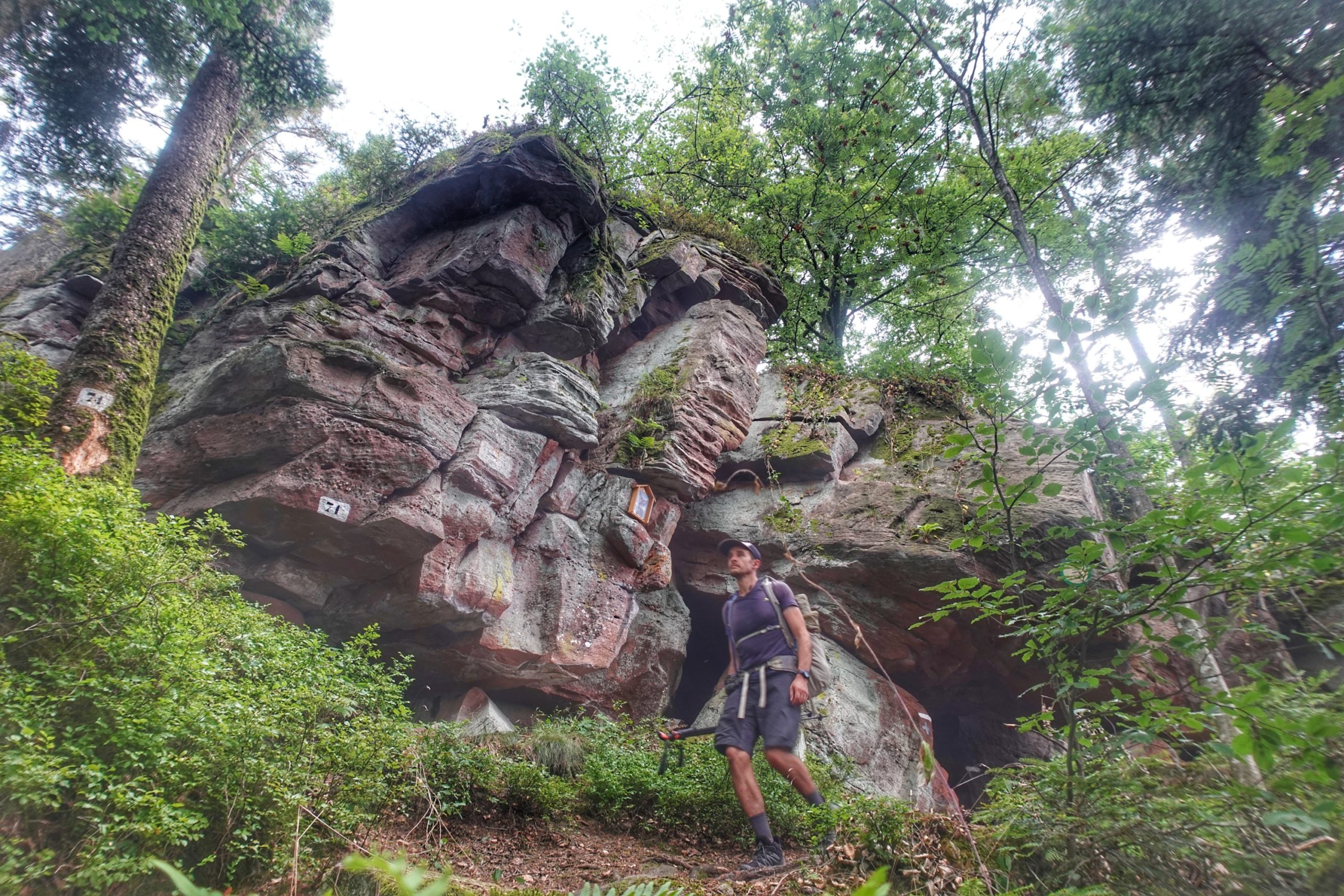 It's also a very, very dry day and my last source of water was early in the morning.
All the sources I have relied on are dry.
I've been walking without water for a while, so I take a mile detour to another spring.
It drips slowly, but there is water.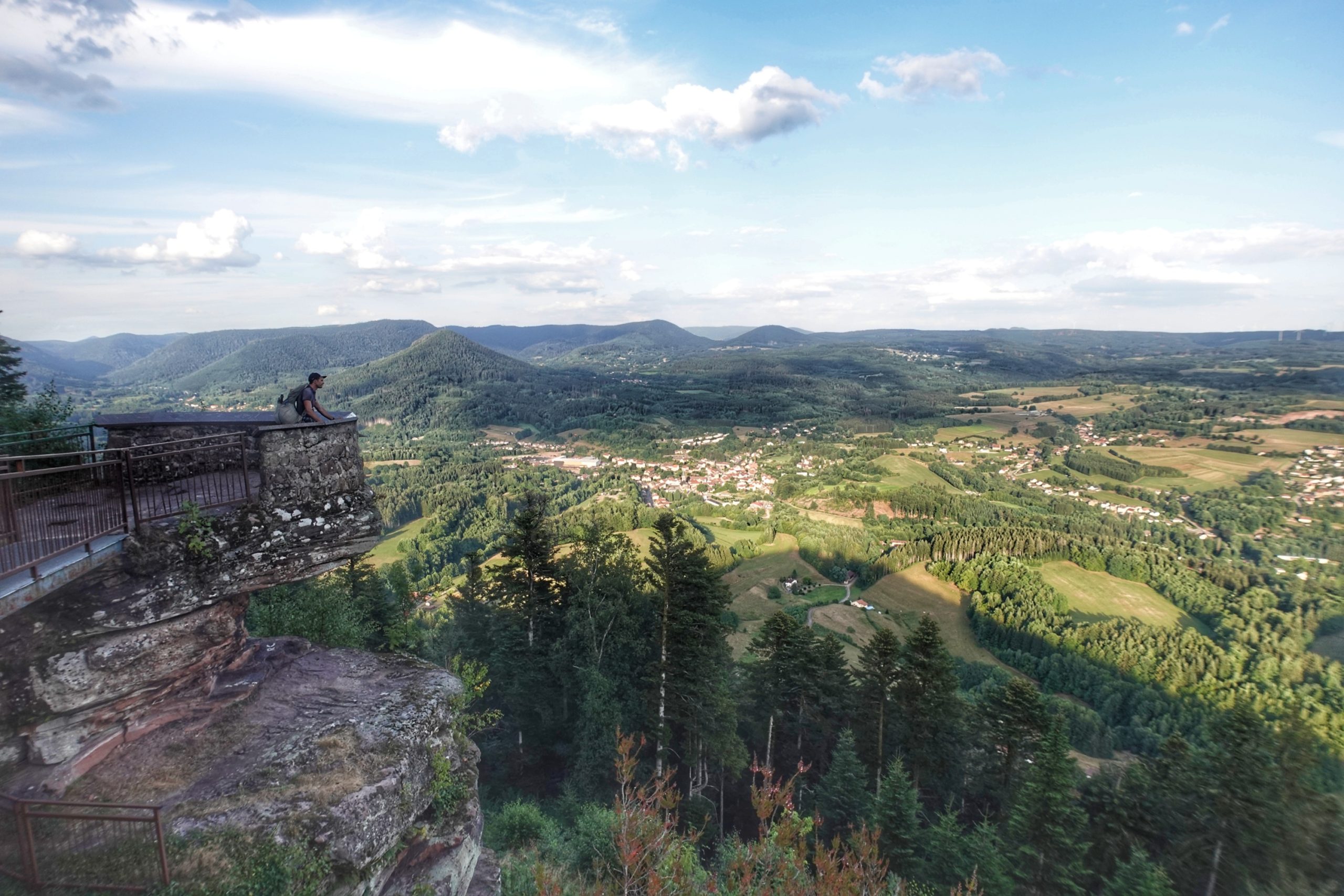 It's still beautiful and I really enjoy being in the woods.
And the rocks are still really cool.
I end up walking until 10 p.m., until I reach Moyenmoutiers, where I find water.
I'm definitely too tired to find a good campsite, so I just plant in some woods that aren't too far from a road.
But I'm not going any further, so I'm just going to put earplugs on.
Day 4
Well, it turns out the road wasn't very busy, but the forest was!
I'm quite used to the sounds of the forest and the animals at night, but since I've been in the Vosges, I hear some pretty funky and weird stuff!
There are a few animals that I can't really tell what they are.
Birds, mammals, leprechauns?
Who knows…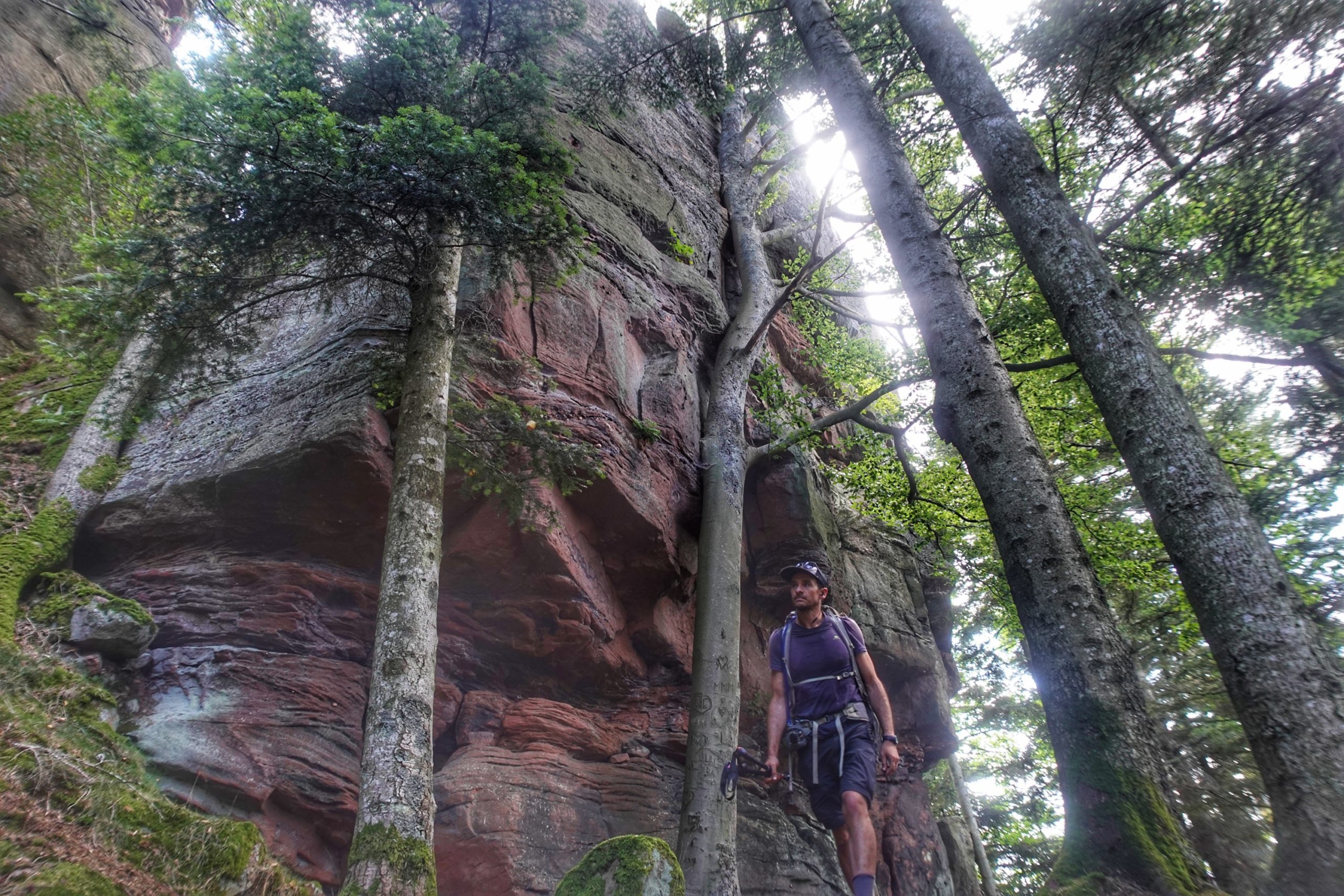 It's still a very beautiful day, even if I absolutely hadn't realized it was Sunday and I was hoping to refuel in Saint-Dié-des-Vosges.
In France, you could get away with restocking on Sunday morning in some places, but on Sunday afternoon… not really.
I still have some food left, so that's fine.
I will just need to make a small detour via Gérardmer.
Which is pretty cool anyway, because as a movie buff, it's a city famous for its fantastic film festival.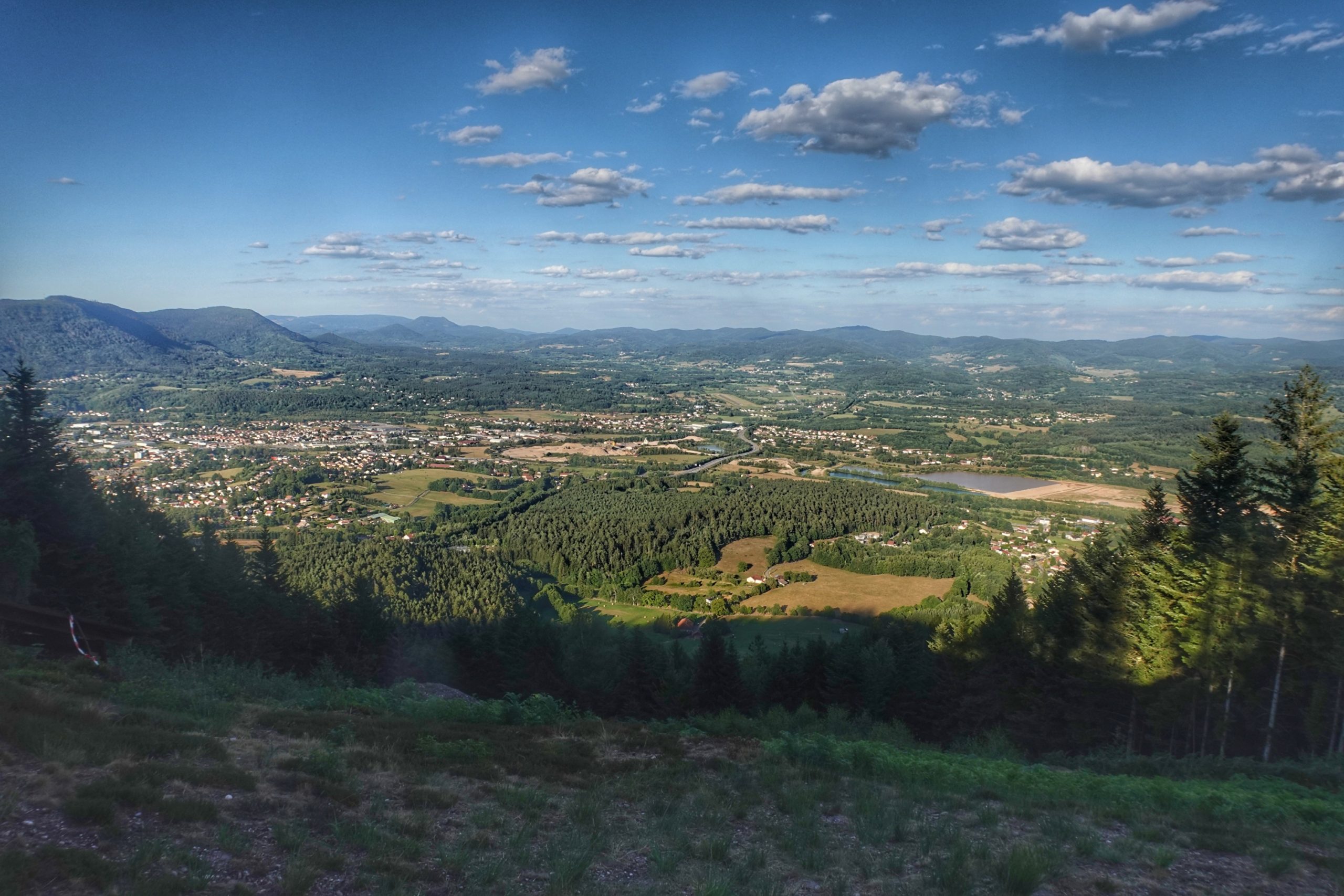 It's another pretty dry stretch and I'm crossing my fingers I have enough to make it to the next water source.
Otherwise, I will knock on certain doors.
Day 5
So it turns out I don't have to knock on a door, there's a bar where I can get water (and ice of course).
Even if I could eat nutella wraps for lunch (it's all I have left), I prefer to hurry a little so I can go to Gérardmer and have lunch there.
The trail ends 3 kilometers from town (and 2 from the supermarket).
I could walk but I prefer to hitchhike.
I go to a bakery where I can treat myself and recharge my electronic devices.
I feel too lazy to go all the way to town, but I hope to be back for the film festival one day.
Once again, not being too sure of the water, I take a lot of things on my way up to the other side of Gérardmer, just to be on the safe side.
A huge downpour / thunderstorm surprises me at the end of the day.
It doesn't last long and it's pretty cool considering the crazy heat wave that's hitting France right now.
Day 6
If until now it was much less hot in the Vosges than further south, it is now catching up.
I make a short detour to La Bresse for lunch and when I leave town it is already very hot.
I lost the cool rock formations but the forest is still very nice.
I guess it's a good test to see if I can handle the AT.
For most Europeans (including myself for a long time) hiking in the AT seems really weird.
Why spend 5 months in the forest going up and down without a view, in the rain and risking Lyme disease?
Long story short, I know why and am now very excited to hike the AT, but I still doubt my ability to spend so much time in a green tunnel.
Anyway, it's not for today.
I go through another town, Cornimont, where I collect 4-5 liters of water before, of course, a big climb.
I thought I could go a bit further but I'm exhausted from going up with that water and there's a nice little cabin to stay in so that'll be fine for today.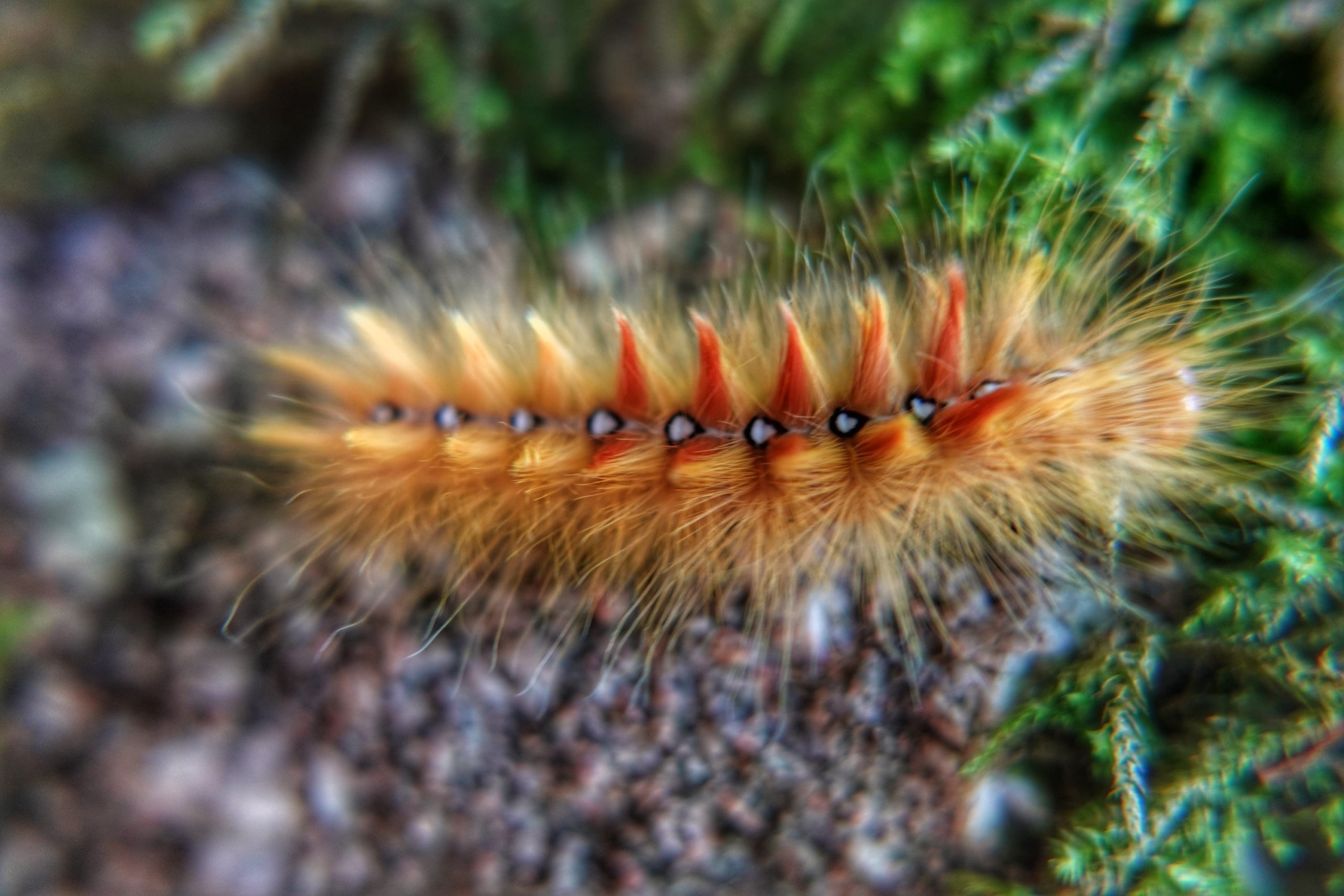 Day 7
I kind of ended up getting lost three times today.
Probably because I dreamed too much or didn't have enough coffee.
Or the marking just wasn't great.
Once I thought it was better to do a little bush to get back on the trail rather than backtracking.
Not the best idea I've had.
At restocking I get my last local Vosges cheese.
It's called Munster and I've never had one before, although it's quite famous.
It's really delicious.
I'll have to look up recipes with this cheese when I'm done walking.
In the end, the water source I was supposed to get my water from (a cemetery tap) is being used for something else, with signs saying don't touch anything.
I continue to walk for a few hours and two rivers are dry, but there is a village a little further but it is a detour.
I enter a small street and immediately spot a saving faucet.
Pretty happy not to have to take a detour as it's almost 10pm.
Day 7
It takes me two hours to get to Belfort, where the trail ends.
I really enjoy this trail and it's actually the perfect trail to hike during a heat wave since you spend most of your time in the shade.
Although I think I'd like to come back and do another hike on the trails through the Vosges in the fall.
The colors would be really cool.
I just saw on the news that Gérardmer, where I was a few days ago, no longer has drinking water because of the heat wave.
It's crazy…
And apparently they had to bring the cows back from the fields to the farms because they can't graze anymore.