Far Out Places: Kai Jones discovers ski mountaineering in the GTNP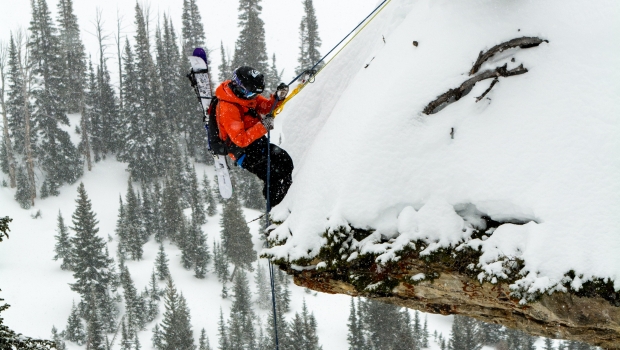 Watch Kai Jones ski some of Jackson Hole's gnarliest terrain.
On a cold and snowy Saturday morning last February, Kai Jones finished buckling his ski boots and tied a 30-meter rope to the top of his pack. With a big smile on his face and a bit of nervous anticipation, he slipped on his skis and took one last look to make sure his beacon was on. He started skinning in the woods, passing Exum guide Nat Patridge, who was doing tag checks on our entire group.
Kai Jones, a 12-year-old TGR, was about to leave for his first ski mountaineering assignment in his backyard in Grand Teton National Park. He was all business, ready to put his new skills to the test. The day before, he was sitting at school finishing a math test.
By age 11, Jones had already ticked off a handful of proud lines in the Jackson Hole sidecountry, and after enthusiastically absorbing as much avalanche education as possible during TGR IPRW's annual athlete safety session, was ready. to step up his game on a bigger footing. power lines in the park.
"The biggest thing I learned that day was to pace yourself," Jones recalls. Photo by Max Ritter.
The challenges of backcountry skiing are clear: Avalanche danger is omnipresent, everything must be accessible on your own on foot, and February mornings at 9,000 feet in Wyoming are very cold. All of these challenges get worse when you consider that Jones is about half the size of the average skier.
Jones grew up in a place with a past steeped in history, as Jackson Hole and Grand Teton National Park is arguably where downhill skiing first became a thing in North America. Like some cities in Europe (La Grave and Chamonix, to name a few), Jackson exudes a certain rawness factor. It's the kind of place where someone's reputation as a skier precedes just about anything else, and Doug Coombs and Bill Briggs are household names. Jones wanted to be a part of it and was preparing to succeed.
Explore the history of Grand Teton National Park and TGR's hometown of Jackson Hole, Wyoming.
Back on the skintrack, our group moved at a steady pace through the woods and were constantly discussing the changing conditions. The Tetons had experienced a period of drought and now it was snowing heavily. Our skiing options were therefore somewhat limited and we climbed the mountain with care.
A few weeks ago, looking back on his first GTNP experience, Jones shared his perspective saying, "The most important thing I learned that day was to pace yourself. It was really hard not to go too fast, especially since it was so cold and I wanted to stay warm. At the start of our first lap, it seemed like Jones had already figured it out, which requires many skiers to refine for years.
Jones and Patridge watch the day's line. Photo by Max Ritter.
We took a break halfway up Wimpy's, a famous backcountry track on the flanks of Albright Peak, and thought about our choice of line. Patridge, who probably knows this terrain better than anyone in the valley, suggested a more direct approach to our goal: a hallway with an overhanging cliff guarding the entrance, and we got around it there.
Jones remembers that moment: "I was a little scared of the encore we were going to do, but I was so excited to learn how to do it right and it really pleased me! Maybe he was just happy to shed the weight of the rope out of his bag and get some rest after skinning to learn some rope techniques. One by one we skied to the entrance of our line, and Jones quickly saw his potential for a great freeride line. On his first lap, he planned to air out a cliff at the entrance and ski it all in one go, then climb back up during the second lap to work on his rope skills.
Jones shows us why freeriding is literally in his blood. Photo by Max Ritter.
With the camera on, Jones styled the entryway and threw huge sprays of snow down the hall as he made three turns in the whole thing, stopping to wait at the back. With a huge smile on his face he called back over the radio and said the conditions were great. Patridge yelled at him something like, "Good job Kai, but don't forget to get out of your quagmire next time!" A quagmire can cause damage to a skier, especially when there isn't a lot of weight to move in the first place. Jones took note.
On restarting, Jones was eager to get into the real lesson of the day: technical ski mountaineering skills. Grand Teton National Park is full of huge lines that require technical rope work to get to them, so the little chute like the one we skied that day was a perfect introduction. First, Patridge reviewed basic belaying and rappelling skills, which Jones already knew from rock climbing during the summer. Still, he's absorbed new ski-specific tips like extending your belay device to add friction and storing your poles between your back and your pack.
"Is this thing going to hold up?" Photo by Max Ritter.
However, when it came to stooping from the edge of a 40-foot cliff, there was some hesitation. "Is it really going to hold up?" " He asked. Patridge assured him that, yes, but that it was really good to be on the mind to make sure everything was perfect before trusting an anchor. With that, Jones gently lowered himself over the edge and slowly slid down the rope to the floor. Taking advantage of the safety of the floor, Jones let out an audible sigh of relief.
With the technical side of the day over, Jones was ready to have some fun on the cliffs and enjoy the soft snow on the way back to the car. Skiing like it was just another lap of the resort, he tied a handful of super-exposed turns on a giant fin to a clean 20ft. He made it look easy. Freeriding is in his blood, after all.
With a real day of skiing under his belt, Jones had his eyes open to a whole new world of skiing possibilities. With the mentorship of respected mountain professionals like Patridge, who instilled both a sense of wonder and a strong sense of safety and the importance of being patient, the young gun was ready to follow in the footsteps of his idols. A few months later, with better stability and a little more experience, Jones returned to the park for a much bigger project: skiing the Skillet Glacier on Mount Moran. Again, he made it all easy.
From the column: TGR Playgrounds