El Paso contractor, Air Force medic bringing climbing gym northwest of El Paso | Local News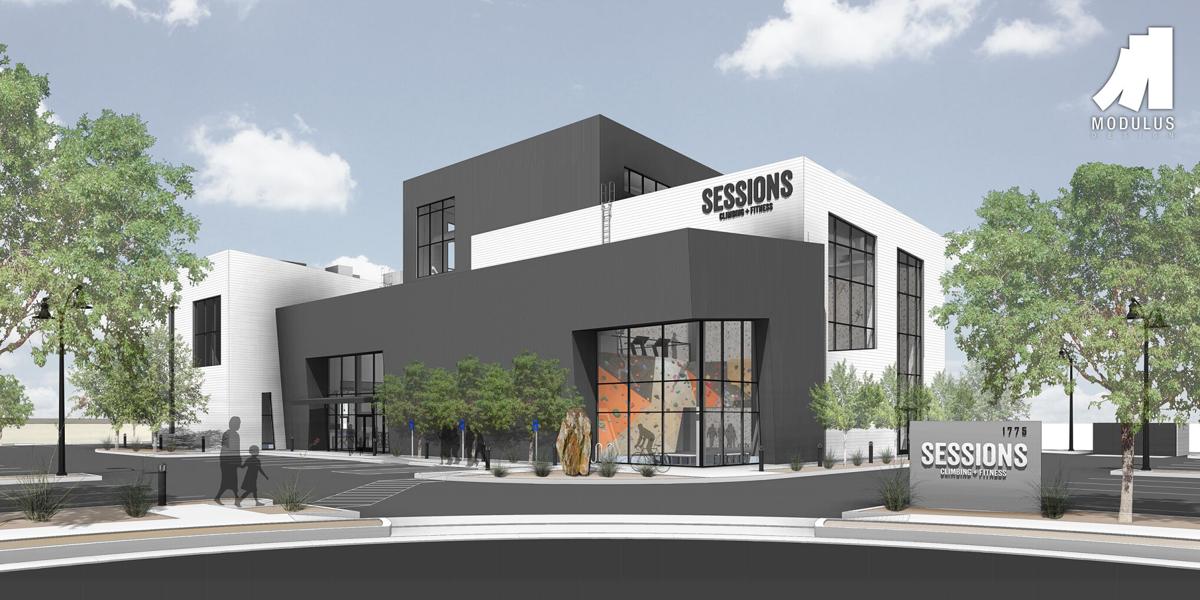 Climbers from all over the world come to the far east of El Paso County to climb Hueco Tanks, a state park, historic site and internationally renowned climbing paradise.
But the sport hasn't taken off locally like it has other places, and an El Paso rock climber and his business partner, an Air Force medic, are hoping to change that.
Albert Alvarez and Nicholas Villalobos are building an indoor climbing gym in northwest El Paso, at 1775 Cimarron Rialto Place. Sessions Climbing Gym is expected to be completed in early 2022. It will include Olympic-grade climbing walls and a cafe, the owners said.
"We hope to involve everyone from El Paso," Villalobos said. "We think a lot of other big cities are really starting to embrace the rock climbing community as a sport, and we want El Paso to be at the forefront of that evolution."
The gymnasium is the next step for Alvarez's touring business, Sessions Climbing & Guiding, which he founded in 2012 after returning to El Paso, he said. Tourism activity will be absorbed into gymnasium operations and will continue to offer guided climbing tours.
For many climbers, their introduction to the sport was as a child, or a natural next step in something like hiking. For Alvarez, it was a total bug.
When Alvarez was a freshman at the University of Texas at El Paso, he found a hat in the library and kept it. He did not recognize the climbing affiliate logo and wore it until he was stopped by the original owner of the hat.
"At first I said, 'I'm sorry, I didn't mean to steal your hat.' He asked me if I wanted to go rock climbing and invited me out this weekend. The rest is history, and I've been climbing ever since, "said Alvarez.
Rock climbing is increasingly popular across the country. For the first time this summer, sport climbing will be an Olympic sport at the postponed Tokyo 2020 Games.
Villalobos and Alvarez both have military backgrounds. Alvarez retired from the US Navy and Villalobos is an active duty medic in the Air Force.
Villalobos said its total investment, including land acquisition and construction, is around $ 6 million and the funding comes from private sources.
The gym will have various membership options, including day passes.
Currently, there are limited options for indoor climbing gyms in El Paso.
Cave Climbing Gym, 113 Executive Center, is available for indoor and bouldering and offers classes, events, and tours for all skill levels. There are climbing walls at UTEP and Fort Bliss, but they are only for students and soldiers.
There is a rock climbing gym under construction in the Bay Area of ​​California called Session. Alvarez said the gym and sessions are completely different gyms without an affiliation.
Rock climbing is extremely popular at Hueco Tanks. The word hueco means hole, and the holes in the rocks are the perfect size for hands and feet.
But like any other sport, it's not always wise to go to a rock climbing mecca for the first time. This is where indoor guidance and training come in.
"Our vision is to have a hub in El Paso that will bring the people of the city to the gym, and hopefully prepare people where they can experience the outdoors," Alvarez said. .