BLM asks climbers to avoid these 11 rock climbing and hiking areas in Southeast Utah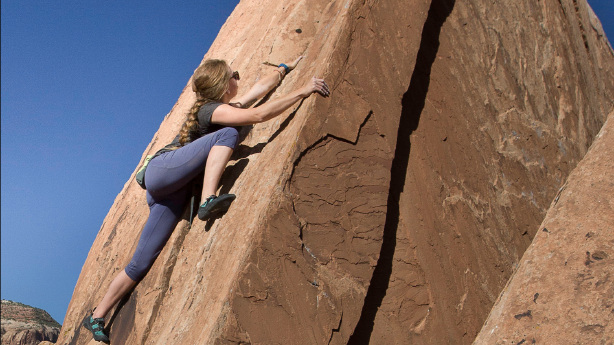 MONTICELLO, San Juan County – The Bureau of Land Management is asking climbers to avoid nearly a dozen climbing and hiking areas near the popular Indian Creek climbing area starting Monday due to raptor nesting season.
The areas that climbers are advised to avoid are named:
Broken tooth
Cat wall
Cliffs of Madness
Cliffs of deception
Other side
Fin wall
Meat walls
Tank wall
Public service wall
Slug wall
The wall
They added that the 11 named locations may have other names and require climbers to consult a map posted online to make sure they are not climbing into an "avoidance zone." Notices will also be posted throughout the Indian Creek corridor, the agency said.
The BLM and other state or federal agencies sometimes close hiking or climbing areas throughout Utah due to nesting activity. The Indian Creek area has many cliffs popular for rock climbing, but it's also where eagles, hawks, and other migrating birds sometimes make their nests in the spring.
Once the birds have set up a nest, it becomes a "critical nesting time" for most of the summer. This is why the avoidance schedule sometimes continues until August.
Officials said the 11 locations were specifically selected because they were locations with "high potential or historically known" to be used for bird nesting activities. Agency biologists are expected to begin their annual surveys of raptor activity in the area to check active nesting sites in March.
In late April or early May, biologists can know the exact location of the nests. This means that some "avoidance areas" may be cleared for recreation at this time, as there are no active nests in the area; some courses may be closed for the summer if there are active nests.
The agency noted that a few of the locations are outside of BLM lands, but officials were working with the Utah School and Institutional Trust Lands Administration, or SITLA, as part of the avoidance process.
Dave Cook, wildlife program manager for the Bureau of Land Management-Utah, explained that biologists typically do not receive pushback from climbers when avoidance directives or closures are issued.
"Usually climbers – they like to climb but they are quite environmentally conscious," he said. "And so they're willing to (respect avoidance zones). And that's a seasonal thing."
×
Related stories
More stories that might interest you