Allie Rood talks ski mountaineering and life abroad in New Zealand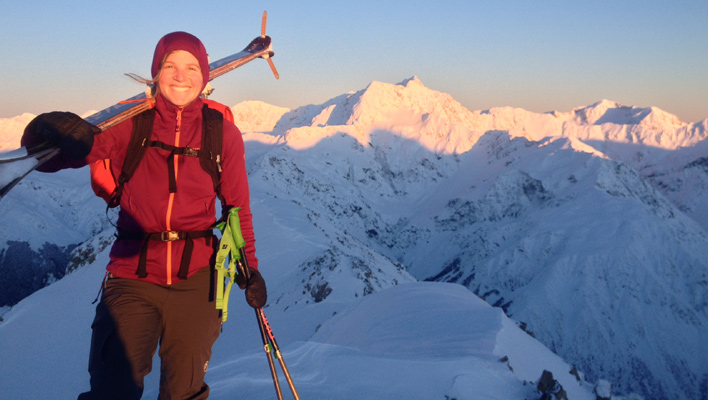 Summer is well advanced in the northern hemisphere and most backcountry enthusiasts have swapped their skis for earth-facing gear. But there are a few who never want the off-piste ski season to end. These are the diehards who travel south where the snow accumulates.
For our next episode of "Austral Aspirations", we chat with Allie Rood, lodge manager at Temple Basin Ski Club in New Zealand. It's Allie's first "never-ending winter" and she plans to make the most of it by exploring the Southern Alps of Kiwi Country.
Hinterland Magazine: What brought you to New Zealand for the summer?
Allie Rood: Last year I went down and skied at Temple Basin with Armada Skis; it was awesome. We were based outside the lodge here, and at the start of this summer I had the opportunity to work here as a lodge manager.
BCM: For a quick lesson in geography, where is Temple Basin in New Zealand?
AR: South Island. You're flying into Christchurch, and the nearest beach resorts to Christchurch are all those club grounds, or "clubs" as they are called [by locals]. They are slightly northwest of Christchurch in the Craigieburn Mountain Range of Arthur's Pass National Park. Temple Basin is at the top of Arthur's Pass, just outside Arthur's Pass Village.
BCM: What's your favorite part of skiing in New Zealand?
AR: My favorite thing about skiing in New Zealand is that it's not very crowded. It's a bit of a freeride and ski touring paradise. I had no idea when I came here last year. I've had [envisioned] Treble Cone, because I didn't know much about it. The mountaineering culture here is very strong, and there are a lot of really amazing mountaineers coming from New Zealand.
BCM: What are the major challenges of off-piste skiing in New Zealand?
AR: I think the weather is the biggest challenge. They will have these huge shocks, but what happens frequently is that a cold storm will occur, we will have a pile of snow and then we will have a lot of hot sunny weather that will create ice. You almost always ski on ice, especially if you go [backcountry] mission. We skied Mount Rolleston which is the highest peak in Arthur's Pass. In one day we walked in sneakers, then we skinned, then we put our crampons on, then we put our ski crampons on and skinned, then we put our crampons back on and got to the top, skied , then put our crampons back on. I have never made the transition so many times in my life. Be ready for ice cream; I think it goes a bit with the Kiwi mentality, you have to mentally prepare yourself for the big days.
BCM: Do you have any major goals on the horizon for the New Zealand backcountry?
AR: It would be really cool to get up and ski some of the bigger peaks like Mt Cook or Mt Aspiring in October. It's definitely the weather and we had a lot of hot weather. But it would be really cool to ski from Mt Cook which is New Zealand's highest peak whether I get to the top or not.
BCM: What are the basic logistics to get there?
AR: You face significant travel on glaciers, and because the approaches are so large, people will be hiring a helicopter or plane to get them to a higher area. To actually ski Mount Cook, you need ropes, skills, and ice rescue gear. The simple act of climbing Cook is an important undertaking. Potentially we would take a plane ride through the park, set up somewhere and go from hut to hut, skiing on different lines. I'm not sure it's on my horizon to ski from the summit this year. Lots of backcountry trips take a lot of planning and are going to be multi-day efforts.
BCM: How would you describe the backcountry scene in New Zealand as different from that in North America?
AR: There are a lot of Europeans and North Americans who come here to ski, and a lot of these people are really experienced. It seems that the people who are here to ski touring know what they are doing and have goals.
BCM: What is New Zealand culture like and how would you compare it to North America?
AR: Kiwis are really friendly and always looking for a "thread" – thread is when you have a little chat with someone. They have leads all the time, and they love to help and give you information.
It is a truly rugged island. There are huge mountains and the weather changes five times a day – people are hardy here. One observation that I have made, even in Christchurch, is that the houses are less insulated and many of them still have simple glass. People go with it and say, "Oh yeah, she'll be right. It's a pretty cool culture, and there is a feeling of independence and freedom here. You feel welcomed as a foreigner.
BCM: Do you plan to come back to New Zealand for a few more seasons?
AR: I don't have a plan right now, but it's been pretty amazing meeting all these different people who spend half their time in the US and half in New Zealand – all year in winter. I plan to do three winters, but I will come back to North America and then I will decide.